The only review system designed by industry experts
MyReviews is an automated customer review system, an easy-to-use tool to manage your brand reputation through positive customer feedback and posts on social platforms, increase site authority and improve social media rankings, SEO, and visibility in important sites.
The Review Optimization System is a systematic way of leveraging real, positive feedback from clients to build trust and increase awareness of your services.
With MyReviews you can generate leads, close sales and manage your customer relationships along with your reputation.
Get started
Easily manage your brand reputation
Contact us today and start improving your online image through positive social proof!
Learn more
What can MyReviews do for you?
In just a few easy steps, you can make use of all the benefits MyReviews brings to your online image. Start creating the social proof your company needs.
Ask for a review
Your customers receive a text or email asking them to complete a short survey.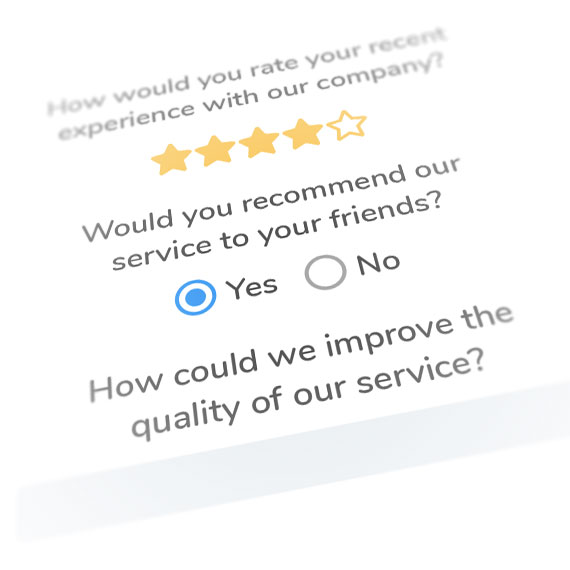 Get the results
Clients rate your service on a 5-star scale. Reviews less than 5-star get sent to you automatically to review.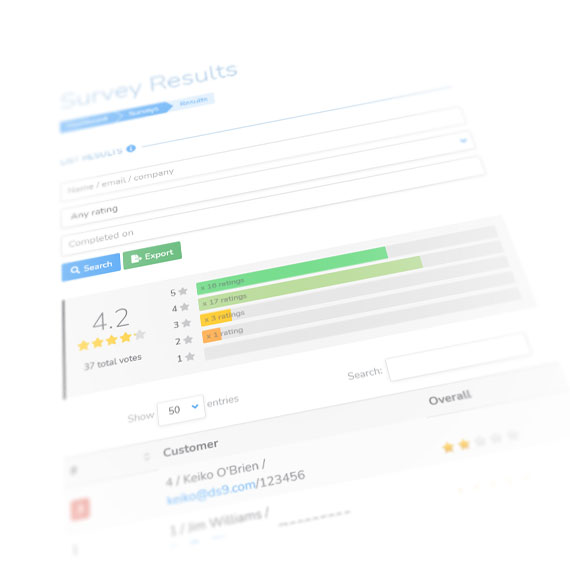 Act accordingly
Respond to your clients' negative reviews, repair your brand reputation, and never miss a customer again.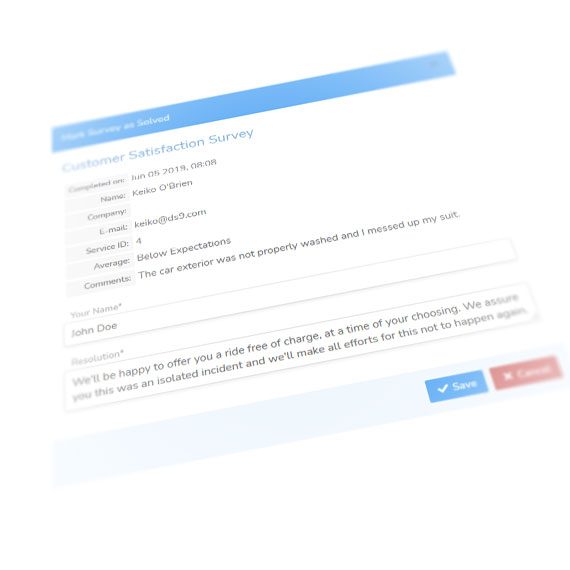 Improve your online image
Track performance, improve local search engine rankings, enhance your brand reputation, drive sales.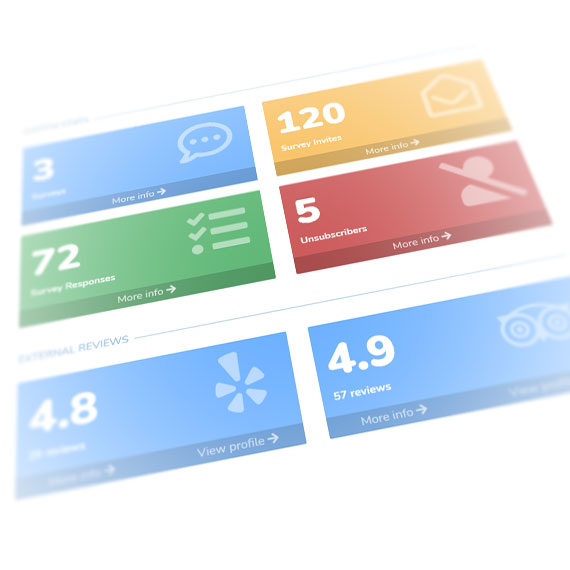 Features to Define Your Brand
Customize Your Company Messaging
Your company and services have a unique voice – we'll customize your messaging using your unique voice. Review invitations and emails sent out to your passengers and displayed on the pages where your reviews are gathered will mirror your brand and build brand consistency.
A Website Widget
Want to show off your reviews on your website to convert more customers into leads? Use our custom website widget to show off what your customers have to say and build trust with your website visitors and new prospects.
A Customizable Dashboard
Want to quickly and easily see the customer feedback data that helps you highlight what makes your company, staff, and vehicles the best in the business? Log in to your MyReviews dashboard any time to check up on your reputation in an instant.
Features to Expand Your Reach
Integrate with the Review Sites Where You Need to Be Seen
MYReviews integrates with major review sites to bring all your reviews together in one place and to make it easy for your customers to review you whenever, wherever.
Reach Customers via SMS/Text
Sending a text to your customers is easy through MyReviews. Use customer trip information directly from your dispatch system, your reviews are sent automatically when and how you want. Frequent Passengers? We have filters built in to ensure the number of review requests are not overwhelming.
CRM and Dispatch System Integrations
MyReviews integrates with a number of dispatch systems, demand partners and GNet to eliminate any manual work for you and completely automate the process of contacting your customers for reviews.
Get Found with these Features
Affiliates or Multiple locations? No problem.
MyReviews team of ground transportation and review system technologies will help you set up your system to ensure your review requests go to your clients – not farm-in work. Of course, we have a process for your farm-out work as well.
Easy Social Media Sharing
Put your great reviews to work by sharing them easily on Facebook , Instagram or Twitter. Why spend the time collecting customer feedback if you are not going to use and show off your service quality? Remember that nearly all consumers (97%) now use online media when researching or services in their local area. Let your reviews put new business into overdrive.
Directory Page
When you use our review tool, you get a listing in our SEO-optimized online directory.
Done-For-You SEO
Your reviews are automatically SEO-friendly when you use MyReviews – we use Schema to make sure your reviews look great in Google search.
Review Monitoring & Instant Notifications
MyReviews continuously monitors review sites across the web. We'll send you an email whenever a customer leaves a review anywhere online or sends feedback. Keep tabs on your reputation with instant updates!
Easily Generate Leads
Impress customers with your great reviews and allow them to contact your business right away without leaving your widget.
In-depth Reporting
Whether you are fulfilling corporate contract requirements or working with demand partners, we'll send reports to your inbox on your schedule.
Dedicated Support
Need to chat with us? A dedicated Review Crew member will be reachable via phone, email, or text to help you out.